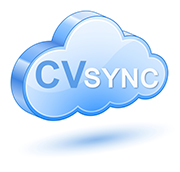 Cahaba Valley Computer Services, LLC is proud to announce a new product called CVsync. CVsync is a cloud based product that is designed to keep data synchronized between multiple computers and among team members working on projects.
With CVsync, you can choose the data that you want to keep synchronized between all of your computers. Once the data is placed in the sync folder, a copy is stored in the cloud.
For example, if you worked on several files at your office during the day but would like to continue to work on them at home on your laptop, all you would need to do is connect to the Internet. Your files are at your disposal. Any changes that you make to them on your laptop will be reflected on your desktop when you arrive at work the next day.
Another feature of CVsync is the ability to securely access your files from the cloud on a public computer, such as one at a hotel business center. This could eliminate the need to carry a laptop every time you travel. Files are also accessible via iPhones, iPads and Android devices.
Team collaboration is also a major part of CVsync. In addition to making your personal files accessible via the cloud, you can also set up a team synchronization folder to share files with other CVsync users within your company. This feature eliminates the need to email multiple copies of files to various team members for approval and revision.
The fact that your files are being stored and synchronized through the cloud is also a safety feature. If something should happen to one of your computers or portable hard drives, you still have all of your valuable files available in the cloud.
CVsync is a very customizable program and can be tailored to fit many needs. Please give us a call at 205-980-9903 to see if CVsync might work for you!