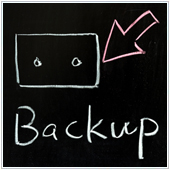 Is your critical business data still being backed up to tape? If you are still a tape user, you might want to consider some of the newer technologies that are available. Tape drives are antiquated devices that just do not have the reliability factor of other backups. There is a saying in the IT industry, "It's not IF a tape will fail, but when it will fail". Tapes tend to stretch over time and fail to work. The drives need to be cleaned on a regular basis. If the designated person forgets to change the tape each day, that day's backup is lost.
Another problem with tapes is the difficulty in recovering data. There have been many different types of tape drives manufactured over the years. If your server or tape drive fails, the only way to recover data from a backup is to find a compatible tape drive to read your tapes. This is getting more difficult every day.
In today's environment, we are strongly recommending a cloud based remote backup service or a combination of a remote service and an on-location disk storage device. If the combination system is used, you must be sure that your most critical data is stored off-site in the cloud. This is extremely important if your company's facilities are damaged or destroyed and you need to recover from a disaster.
Each company's needs are different. We will be happy to sit down with you and discuss your backup and disaster recovery needs and devise a plan that fits your needs.